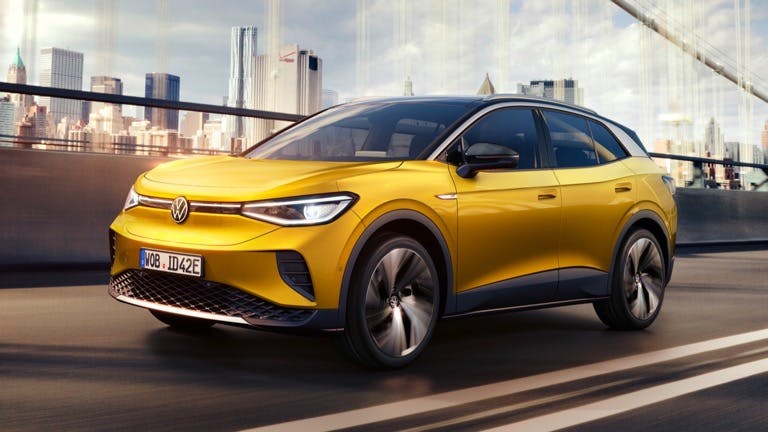 Driving into the Future: Exploring the All-Electric Volkswagen ID. 4
The Volkswagen ID.4 is an all-electric compact SUV produced by the German automaker Volkswagen. It is part of Volkswagen's ID series, which is the brand's lineup of electric vehicles (EVs) built on the modular electric drive matrix (MEB) platform. The ID.4 is designed to be a versatile and practical electric SUV with a spacious interior, advanced technology features, and a capable electric powertrain.
Performance and Range:
The Volkswagen ID.4 is available in different variants with varying performance and range capabilities. The base model is equipped with a single rear-mounted electric motor that delivers 201 horsepower (150 kW) and 228 pound-feet of torque, while the available all-wheel-drive variant adds a front-mounted motor for a combined output of 295 horsepower (220 kW) and 339 pound-feet of torque. The ID.4 has an estimated EPA-estimated range of up to 250 miles on a single charge, depending on the variant and battery configuration.
Battery and Charging:
The ID.4 comes with a lithium-ion battery pack with a usable capacity of 82 kWh, which is mounted in the vehicle floor to optimize interior space and lower the center of gravity for improved handling. The ID.4 supports DC fast charging, allowing for quick recharging at compatible charging stations. With DC fast charging, the ID.4 can recharge from 5% to 80% in about 38 minutes, depending on the charging station's power output. The ID.4 also supports AC charging, which is slower but more widely available, and can be charged using a standard household outlet or a dedicated Level 2 charging station.
Design and Interior:
The Volkswagen ID.4 features a sleek and modern design with a coupe-like silhouette and a streamlined body. It has a spacious and functional interior with seating for up to five passengers and ample cargo space. The cabin features a minimalist design with a digital-focused dashboard and a large central infotainment touchscreen for controls and media. The ID.4 comes with a host of standard and available features, including LED lighting, heated front seats, dual-zone climate control, a panoramic sunroof, and more. It also offers advanced driver-assistance technologies, such as adaptive cruise control, lane-keeping assist, and automated parking.
Technology and Connectivity:
The ID.4 is packed with advanced technology and connectivity features. It comes with Volkswagen's MIB3 infotainment system, which includes a 10-inch touchscreen display, voice recognition, Bluetooth connectivity, and smartphone integration with Apple CarPlay and Android Auto. The ID.4 also features an augmented reality (AR) head-up display that overlays navigation directions and other information onto the windshield, making it easier for the driver to stay focused on the road. Additionally, the ID.4 offers over-the-air (OTA) software updates, allowing for remote updates and improvements to the vehicle's software and features.
Safety:
The Volkswagen ID.4 prioritizes safety and comes with a comprehensive suite of standard and available safety features. Standard safety features include a rearview camera, automatic emergency braking with pedestrian detection, blind-spot monitoring, and rear cross-traffic alert. Available safety features include a 360-degree camera system, adaptive cruise control with stop-and-go functionality, lane-keeping assist, and emergency assist, which can bring the vehicle to a controlled stop in case of a medical emergency.
In conclusion, the Volkswagen ID.4 is a versatile and practical all-electric compact SUV that offers impressive performance, a spacious interior, advanced technology, and a host of safety features. With its electric powertrain and modern design, the ID.4 represents Volkswagen's commitment to sustainable mobility and the future of electric transportation.
Back to Parent Page