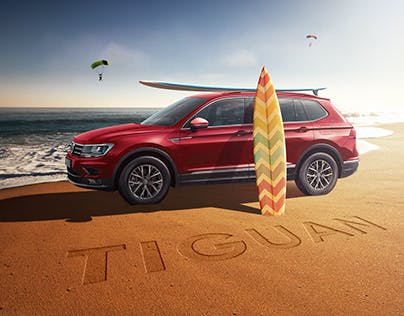 The Top Volkswagen Vehicles for Unforgettable Summer Adventures
Summer is the perfect time to embark on thrilling adventures and explore the great outdoors. Whether you're planning a road trip, a camping excursion, or a beach getaway, having the right vehicle can enhance your experience and make your summer adventures even more memorable. Volkswagen offers a range of vehicles that combine style, reliability, and versatility, making them ideal companions for your summer escapades. In this blog post, we will explore the top Volkswagen vehicles that are perfect for summer adventures.
Volkswagen Tiguan: The Volkswagen Tiguan is a compact SUV that strikes the perfect balance between size and agility. With ample interior space, comfortable seating, and a smooth ride, the Tiguan is an excellent choice for long road trips. Its available 4MOTION® all-wheel-drive system provides enhanced traction, ensuring you can tackle various terrains confidently. The Tiguan's generous cargo capacity means you can easily pack all your gear, whether it's camping equipment, beach essentials, or hiking gear.
Volkswagen Atlas Cross Sport: If you're planning a summer adventure with a larger group or family, the Volkswagen Atlas Cross Sport is a fantastic option. This midsize SUV boasts a spacious interior with three rows of seating, providing ample room for passengers and cargo. The Atlas Cross Sport offers a comfortable and smooth ride, making those long road trips a breeze. Its advanced safety features, such as blind-spot monitoring and adaptive cruise control, provide an extra layer of confidence and security.
Volkswagen Golf Alltrack: For those seeking a compact yet rugged vehicle for their summer adventures, the Volkswagen Golf Alltrack is an excellent choice. This wagon-style vehicle offers a unique blend of versatility, practicality, and off-road capabilities. With its raised suspension and available 4MOTION® all-wheel drive, the Golf Alltrack can handle unpaved roads and rough terrains with ease. Its spacious cargo area allows you to stow camping gear, bicycles, or surfboards for your outdoor pursuits.
Volkswagen Beetle Convertible: If you're looking to soak up the sun and enjoy the thrill of an open-air driving experience, the Volkswagen Beetle Convertible is the perfect summer companion. This iconic convertible combines classic style with modern features and technology. With its retractable soft top, you can easily lower it to feel the wind in your hair as you cruise along scenic routes or coastal roads. The Beetle Convertible's compact size makes it ideal for navigating crowded city streets or exploring hidden gems off the beaten path.
Volkswagen ID.4: For those seeking a more sustainable and eco-friendly summer adventure, the Volkswagen ID.4 is an all-electric SUV that combines performance, range, and environmental consciousness. With its electric drivetrain, the ID.4 offers zero-emission driving while still providing ample space and comfort for your journeys. Its long-range capability and fast-charging infrastructure compatibility ensure you can explore with peace of mind.
When it comes to summer adventures, Volkswagen offers a range of vehicles that cater to various needs and preferences. Whether you're looking for a spacious SUV, a rugged wagon, a stylish convertible, or an electric vehicle, Volkswagen has you covered. The Tiguan, Atlas Cross Sport, Golf Alltrack, Beetle Convertible, and ID.4 are among the best options for your summer escapades, combining reliability, versatility, and the thrill of the open road. So, gear up, plan your routes, and get ready for an unforgettable summer adventure with a Volkswagen vehicle by your side!
Call or visit Diehl Volkswagen of Butler today to pick out your new Volkswagen!
Back to Parent Page