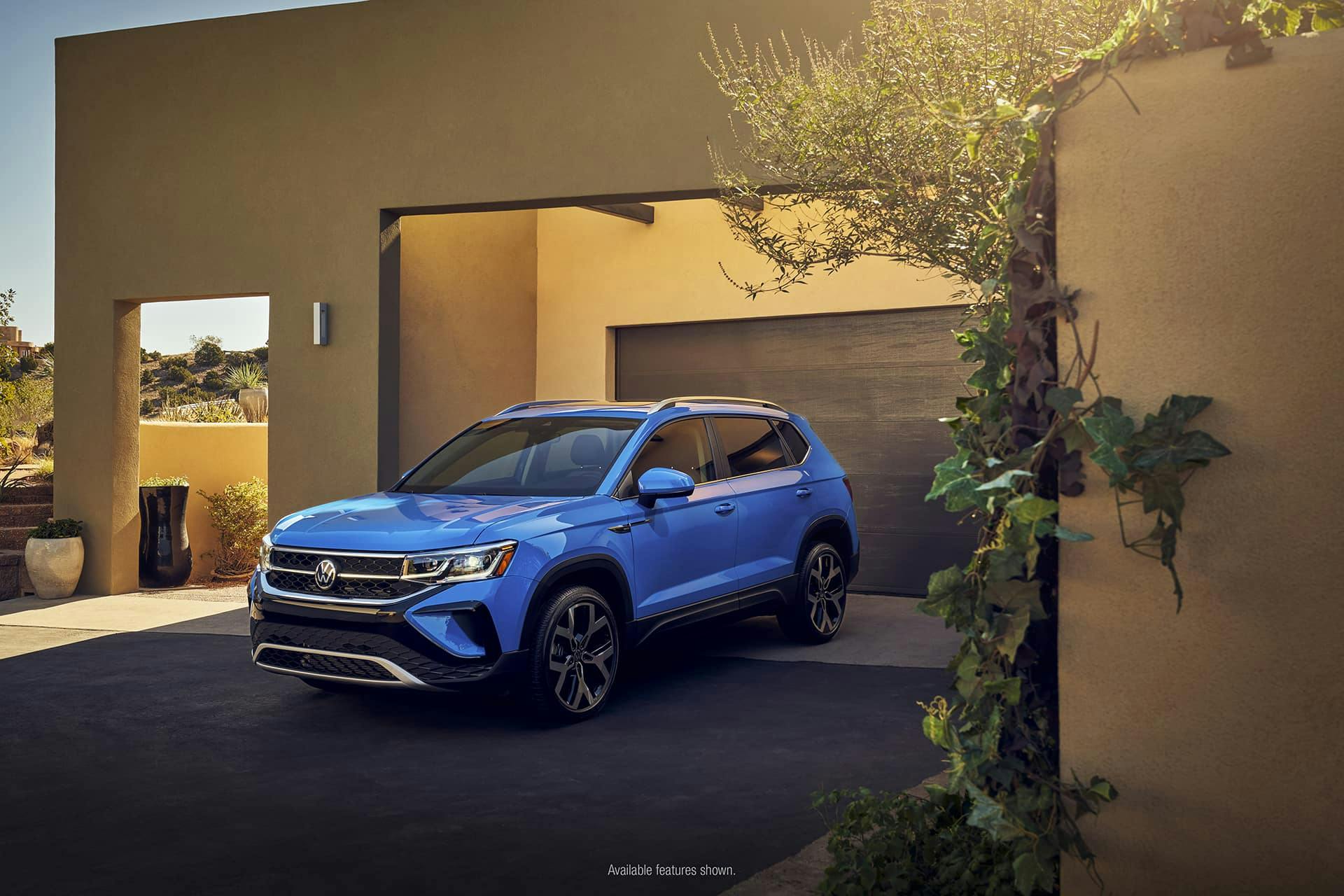 Volkswagen Taos: A Compact SUV with Big Ambitions
Volkswagen, the renowned German automotive manufacturer, has long been known for its commitment to producing quality vehicles that offer style, performance, and reliability. In its latest offering, Volkswagen presents the Taos, a compact SUV that aims to make a big impact in the highly competitive SUV market. With its sleek design, advanced technology, and impressive performance, the Volkswagen Taos is poised to captivate the hearts of both urban adventurers and road trip enthusiasts. Let's delve into the features that make the Taos a compelling choice in the compact SUV segment.
Striking Exterior Design: The Volkswagen Taos boasts a modern and athletic design that sets it apart from its rivals. With its bold lines, sculpted hood, and a distinctive front grille, the Taos exudes a sense of confidence and presence on the road. The compact dimensions of the SUV lend it agility and maneuverability, making it ideal for navigating both city streets and winding country roads. Additionally, the available LED headlights and taillights enhance visibility while adding a touch of sophistication.
Spacious and Versatile Interior: Despite its compact footprint, the Volkswagen Taos surprises with its spacious and well-thought-out interior. The cabin is designed to maximize passenger comfort and convenience, offering ample headroom and legroom for both front and rear occupants. The rear seats can be folded down to create a larger cargo space, accommodating larger items for weekend getaways or shopping trips. The Taos also includes clever storage solutions, such as hidden compartments and cargo-area tie-downs, ensuring that your belongings are secure during the journey.
Cutting-Edge Technology: Volkswagen has equipped the Taos with an array of advanced technology features, elevating the driving experience to new heights. The centerpiece of the dashboard is an intuitive touchscreen infotainment system that integrates seamlessly with your smartphone through Apple CarPlay or Android Auto. With voice commands and steering wheel controls, accessing navigation, music, and other apps becomes effortless and safe. The Taos also offers an available digital cockpit display, giving drivers the flexibility to customize the information they see in front of them.
Impressive Performance and Efficiency: Under the hood, the Volkswagen Taos packs a punch with its turbocharged engine. The 1.5-liter four-cylinder engine delivers a spirited performance while maintaining excellent fuel efficiency, allowing drivers to enjoy both power and savings at the pump. The Taos comes with available 4MOTION® all-wheel drive, providing enhanced traction and stability on various road conditions. Whether you're navigating through snow or embarking on off-road adventures, the Taos ensures a confident and engaging driving experience.
Advanced Safety Features: Volkswagen prioritizes safety, and the Taos is no exception. It is equipped with a comprehensive suite of advanced safety features to keep occupants protected on every journey. The SUV includes standard features such as a rearview camera, blind-spot monitoring, and forward collision warning with autonomous emergency braking. Additionally, available features like adaptive cruise control, lane-keeping assist, and a parking assist system offer extra peace of mind for both city driving and long highway trips.
The Volkswagen Taos represents a compelling choice in the compact SUV market, combining style, practicality, and advanced technology into one cohesive package. With its striking design, spacious interior, cutting-edge technology, and impressive performance, the Taos is a worthy contender in its segment. Whether you're seeking a vehicle for daily commuting or weekend adventures, the Taos offers the versatility and capability to cater to your needs. Volkswagen's commitment to quality and craftsmanship is evident in every aspect of the Taos, making it a standout option for those seeking an exceptional compact SUV.
Pick out your new Volkswagen Taos HERE at Diehl Volkswagen of Butler!
Check out our New Vehicle Specials HERE with a special lease deal on the Taos for the month of July!
Back to Parent Page