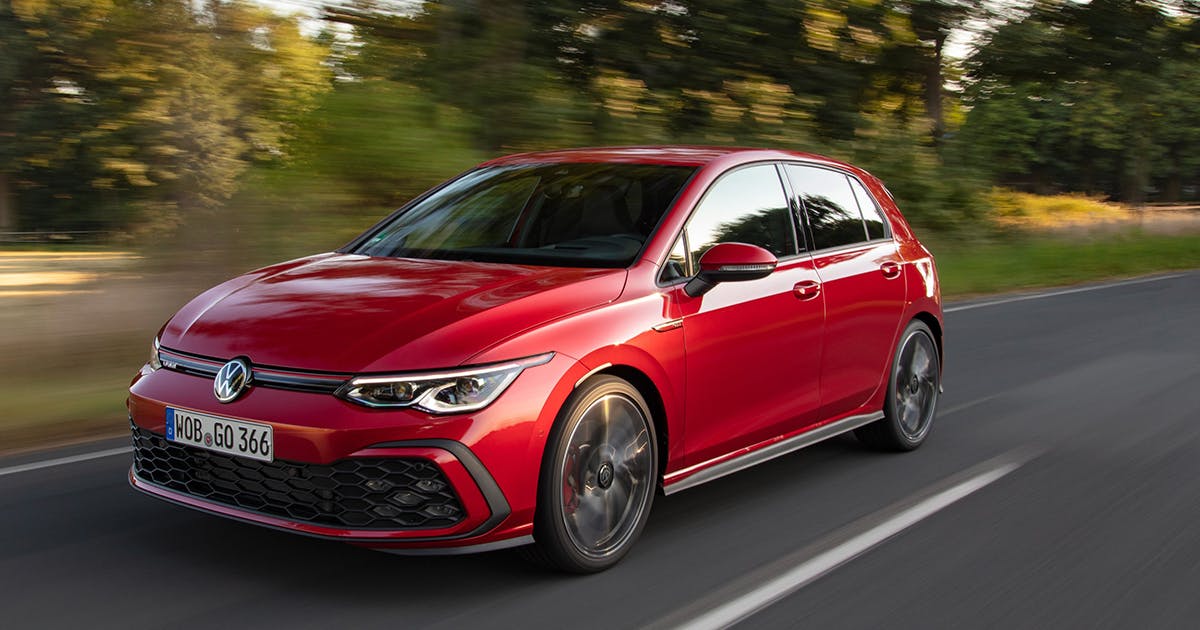 Volkswagen Golf GTI
The Volkswagen Golf GTI is a popular and iconic hot hatchback that has been in production since 1976. It is known for its sporty performance, practicality, and fun-to-drive nature. Here are some key features and characteristics of the Volkswagen Golf GTI:
Engine Performance: The Golf GTI is powered by a turbocharged 2.0-liter inline-4 engine. The latest generation GTI produces around 241 horsepower and 273lb-ft of torque. However, please note that specific performance figures may vary depending on the model year and any subsequent updates.
Transmission Options: The GTI typically comes with a standard six-speed manual transmission for a more engaging driving experience. However, there is also an available seven-speed dual-clutch automatic transmission (DSG) for those who prefer automatic shifting.
Sporty Styling: The GTI features a distinct exterior design with aggressive lines, a sporty front grille, red accents, and unique GTI badging. It often has larger wheels, unique alloy designs, and a rear spoiler, further enhancing its sporty appeal.
Interior Comfort and Design: Inside the GTI, you'll find a driver-focused cockpit with well-bolstered sport seats, usually upholstered in a combination of cloth and plaid tartan pattern. The overall interior design is often refined, featuring high-quality materials and a user-friendly layout. It offers a comfortable and ergonomic driving position with ample legroom and headroom for both the driver and passengers.
Technology and Infotainment: The Golf GTI typically comes equipped with a range of advanced technology features. These may include a touchscreen infotainment system with smartphone integration (Apple CarPlay and Android Auto), Bluetooth connectivity, USB ports, voice control, and navigation system. Additional features such as a premium sound system, digital instrument cluster, and advanced driver-assistance systems may be available as options or standard on higher trims.
Driving Dynamics: The Golf GTI is renowned for its nimble and agile handling, making it a joy to drive on twisty roads. It typically comes with a sport-tuned suspension, which provides enhanced stability and responsiveness. The GTI also incorporates features like electronic limited-slip differential (XDS) and adaptive chassis control (DCC) to further improve its performance and handling.
Safety Features: The Golf GTI usually offers a range of safety features, including multiple airbags, stability control, traction control, anti-lock braking system (ABS), and tire pressure monitoring system. Advanced driver-assistance systems such as forward collision warning, automatic emergency braking, blind-spot monitoring, lane-keeping assist, and adaptive cruise control may be available on higher trims.
Trim Levels: The GTI typically comes in multiple trim levels, which may vary depending on the market and model year. Common trims include the base GTI, GTI SE, GTI Autobahn, and GTI Performance. Higher trims often offer additional features and performance upgrades.
It's important to note that specific features and specifications can vary between different model years and variants of the Golf GTI. It's always advisable to check with the latest official Volkswagen documentation or contact Diehl Volkswagen of Butler for the most up-to-date and accurate information.
Back to Parent Page