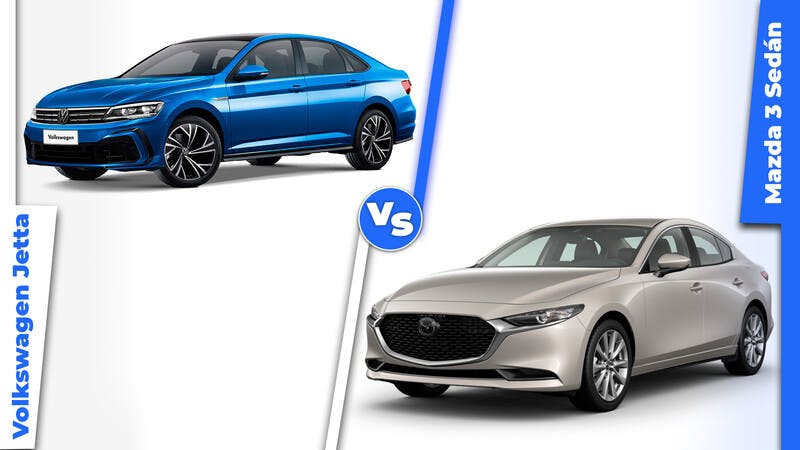 Volkswagen Jetta and Mazda3 Compared
Both the Volkswagen Jetta and the Mazda3 are popular compact cars that offer good value for their price. Here are some key similarities and differences between the two:
Price: The Volkswagen Jetta is generally less expensive than the Mazda3, with a starting price that is several thousand dollars lower. However, the higher trims of both cars can be similarly priced.
Performance: Both the Volkswagen Jetta and the Mazda3 offer good handling and a fun-to-drive experience. However, the Mazda3 has a more powerful engine than the Jetta and is generally considered to be more agile on the road.
Fuel economy: Both cars offer good fuel economy, with the Jetta getting up to 40 mpg on the highway and the Mazda3 getting up to 36 mpg on the highway.
Interior: Both cars offer a comfortable and spacious interior, but the Jetta has a larger trunk than the Mazda3. The Jetta also offers more legroom and headroom for both front and rear passengers.
Warranty: The Volkswagen Jetta comes with a 4-year/50,000-mile limited warranty, which is longer than the Mazda3's 3-year/36,000-mile warranty.
Technology: Both cars offer a range of standard and available features, including touchscreen infotainment systems, smartphone integration, and advanced safety features. The Mazda3 offers a more user-friendly infotainment system and more advanced safety features, such as adaptive cruise control and lane departure warning.
Overall, both the Volkswagen Jetta and the Mazda3 are solid choices in the compact car segment.  However, the Jetta offers a lower starting price, more spacious interior, a better warranty, and better fuel economy.
Back to Parent Page